Victorian Lampshade for Antique Bridge Lamp
Custom Order Today -- Many Fabrics Available -- Phone 951-240-5663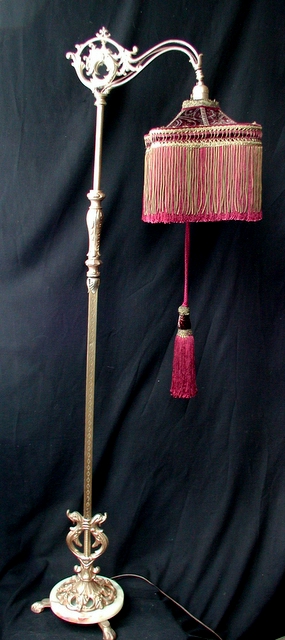 The main color of the shade is burgundy-maroon. It is not as red as it appears in the above photo.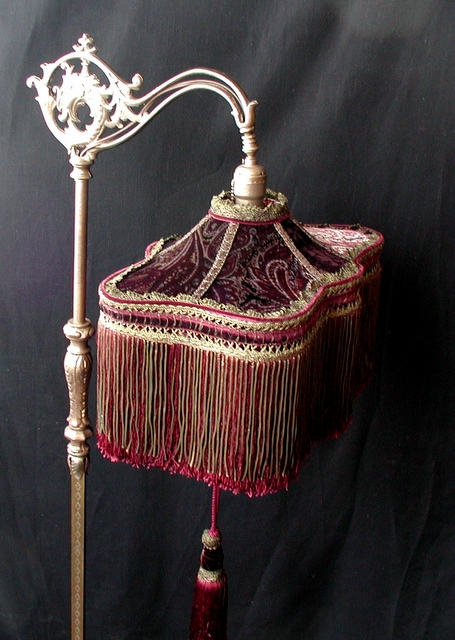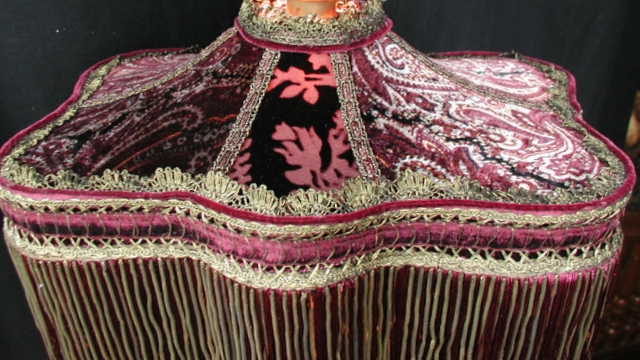 The top fabric is silk velvet imported from Turkey. The smaller top panels are maroon burn-out silk velvet. The main color of the shade is maroon with antique gold trim. The lower edge of the lampshade is made of antique metallic trim with a deep burgundy ribbon running through the metallic piece. Along the top of the shade and on the lower edge, a velvet cording has been used. There are two layers of fringe. The inside fringe is a seven inch burgundy rayon. This is overlaid with antique metallic fringe. The inside of the shade is lined with silk which has been gathered in the old style of shade making. The shade is ten inches by fourteen inches across the top, and eleven inches tall including the fringe.
Price for the shade $230.00 to $300.00 depending on fabric and trims.
Order # VS20637
Custom Order Today -- Many Fabrics Available -- Phone 951-240-5663