Victorian Table Lamp and Shade
Custom Order Today -- Many Fabrics Available -- Phone 951-240-5663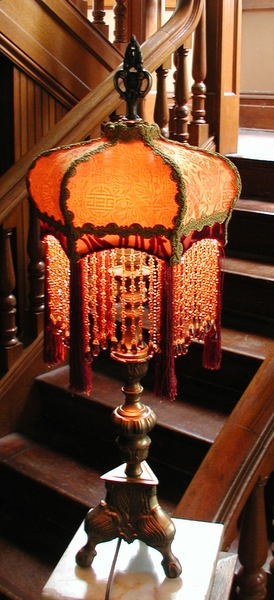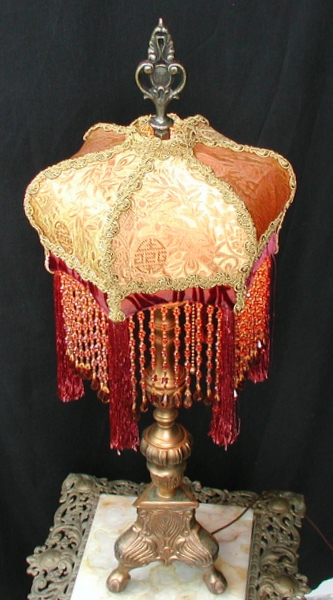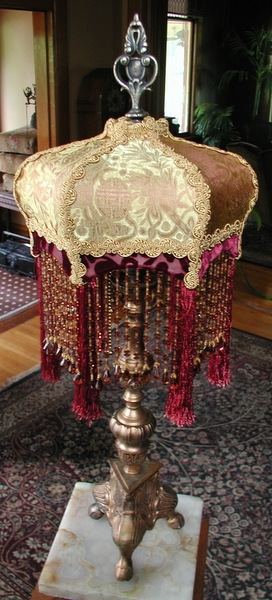 The lampshade was designed especially for this lamp base. The top of the shade is a wonderful shade of gold with muted red shadows. There is a hint of Asian design in this fabric. The small lower panels are done in a rich red silk burn out velvet. Six-inch amber beads and seven-inch red tassels around the bottom. Matching gold trim. A unique looking lamp and shade combination.

Vintage metal lamp base has small feet attached to tripod legs. Great height and design -- one of a kind piece. Lamp has a pull chain socket for turning it off and on. This a perfect lamp for your Victorian table or dresser. Size: 25" tall to the top of the finial -- the shade is 9" wide at its widest point.

It is a very elegant lamp and shade which looks great with many decorating styles -- not just Victorian. But if you have a Victorian room, it will be a great enhancement. This shade was hand-made by us in our studio in the US. It is lined inside with silk -- the finest fabrics and trims have been used in making this beautiful piece. We have been making shades for over 14 years, and offer many styles and color choices. Please contact us if you have questions.
Price for the lampshade $245.00
Order # VS20723
To Order
Custom Order Today -- Many Fabrics Available -- Phone 951-240-5663
"TOO MUCH IS NEVER ENOUGH"
Visit Our Home Page For More Lampshade and Lighting Ideas